Before I start, a few works on the subject of

pain

. The following session does involve mild discomfort and a little pain -
if even the mildest of

pain isn't your thing, then

please

read no further
, I shall not be offended or think any the less of you for it.

Personally I am not into the whole sadism thing and hence not the entire BDSM scene (only the B as it happens) but, just occasionally I do find myself indulging in a little bit of nipple play and the use of clover clamps (the ones that pinch tighter the more you pull) and get a bizarre pleasure from that (ok so maybe I'm into both the B and a little
M
of BDSM). In everyday life I'm an utter wimp when it comes to pain, and any sexual image involving it is an utter turn-off to me – so I can't easily explain why I occasionally 'flip' (just a little bit) to the other side.
Anyway, enough said, on with my tale:
I was on a 'sub' high after the previous torment and teasing, doubly so because an attempt to orgasm using the massager after my session had ended proved futile (I think all the activity had left my cock numb! 

) – All I wanted now was to undergo some 'punishing' self-bondage and I had just the plan for that…
Equipment
:
70den closed crotch, long sleeved nylon bodysuit with sheath

20den closed crotch, long sleeved nylon bodysuit with sheath

20den gloss pantyhose

Lycra body

Lycra body-con dress

Handcuffs

8 knee-highs

Rope

Condom

High-heeled ankle boots

Leather cuffs, neck collar and D-links

Chain

Butt-plug (my biggest!)

Clover Nipple clamps

Ear plugs

Large (and heavy) silicon dildo

The session:

I didn't change out of the clothes I'd worn in my last session (
MJ-SB05/2015 – Home alone session 5:
A new day and looking for 'release'
) but did slip into my tight dress to become the 'damsel in distress' once more. I removed my gag and replaced the knee-highs with some old ones that had been laddered, providing an opening around my mouth. The neck collar went back on, as I had a need for that for another part of my planned bondage.
My session would be one that required me to hold a very heavy dildo in my mouth that was tied to clover clamps on my nipples. I would have to hold the dildo or subject myself to the consequences of dropping it – a sort of 'forced deep-throat or suffer', though not that deep!
I wanted to add more to the session though; the first step was to hobble my ankles together (using the cuffs again) and to chain my ankles to my neck collar, making movement just that little bit more difficult. Finally I would 'force' myself to walk for my freedom by cuffing my wrists together with a combination of wrist cuffs and hand-cuffs, but placing the key to my handcuffs a good distance away at the bottom of the stairs (I would start at the top). I also added a final twist by roping the handcuffs to a point downstairs to prevent me getting close enough to the wall to easily rest from sucking/holding the dildo in my mouth.
With both camera and video set up I began my adventure…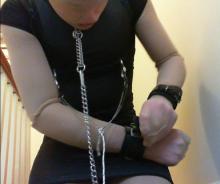 - that's my arms and hands encased and the cuffs on, with knee-highs over my head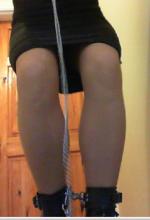 - a short hobble between my cuffed ankles
and a chain that is just too short to my neck collar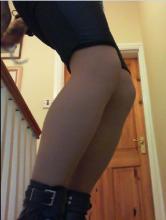 - it was a struggle to get the handcuffs through the d-rings of my wrist cuffs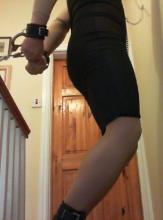 - but I did it and now I'm trapped until I get to the keys, which are down the stairs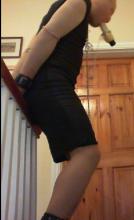 - the beginning of my hold or suffer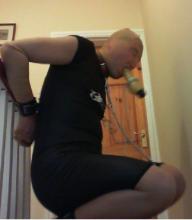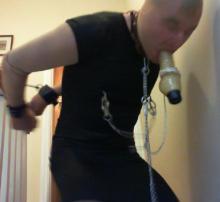 - already having to kneel down to re-position the dildo in my mouth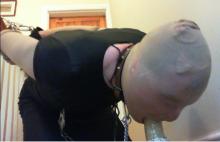 - Its not as bad as it looks! OK, so it is as bad as it looks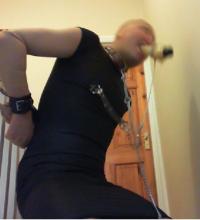 - getting back up was a struggle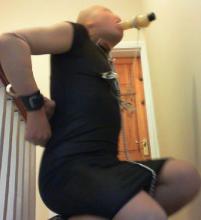 - oh-no! nearly dropping the dildo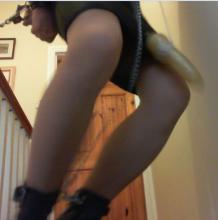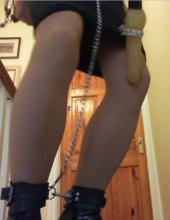 - Arrrggghhh and Ouch!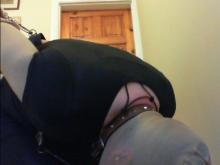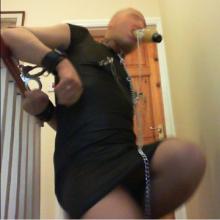 - getting it back into my mouth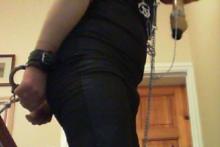 - struggling to hold it in again (or am I deliberately trying to drop it?)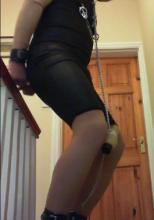 - dropped it again!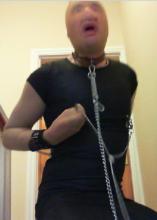 - I finally decide to remove the clamps, this is going to hurt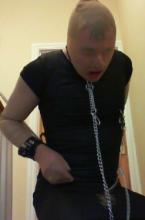 - yes, it hurt!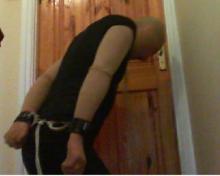 - time to get free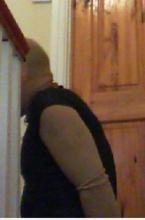 - off to find the keys
What went well?
It was a really fun scenario to have to move to get free – I've never tried a hobble before and found it very satisfying when combined with the need to cover a distance for my freedom. I usually love to be tied 'to' something, but the need to struggle around the house to gain my freedom is quickly becoming a major turn-on.
The deep throat or suffer – ok, it wasn't a really deep throat, but in my state of arousal I found it incredibly sexy. The suffering wasn't so bad as to make it unbearable, but was bad enough to make it desirable to avoid! I dropped the dildo twice and the experience was intense.
What could be improved?
Checking the camera memory card before starting! I got 3 shots before the card was full – what an idiot!

Better video angles – a difficult one to sort out in the space I used, but I have plans for any future adventures
Make it more difficult to hold the dildo – even though I did drop it twice I felt that the challenge should be harder in a re-run of this scenario. Two ideas I'd like to try are adding weights to the dildo/rope and a large ring gag. The weights are simple enough, plus make the consequences of dropping that much more painful; whilst a ring gag would prevent me from holding the dildo with my teeth or lips and (I think) mean that I would have to 'suck' it inside my mouth to keep it in place…. Mmmmmm!
A longer walk/hobble/crawl to freedom – as I've mentioned above, I've never really played with self-bondage scenarios that require me to move any distance to gain my release, but now I've tried one I want to try it again and make the distance I have to travel further.
Handcuffs – the ones I use are cheap and nasty, I need to invest in something better but that are as comfortable as my leather cuffs; any ideas/suggestion?
Play safe
MJ