Reddit user IronyAndWhine made this graphic showing the frequency of 55 sexual fantasies by gender according to the study What Exactly Is an Unusual Sexual Fantasy? published on October 30, 2014, on the Journal of Sexual Medicine. It's an interesting look at human sexuality.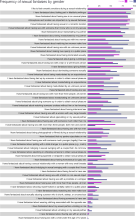 This were the results of the study according to the abstract:
Only two sexual fantasies were found to be rare for women or men, while nine others were unusual. Thirty sexual fantasies were common for one or both genders, and only five were typical. These results were confirmed with qualitative analyses. Submission and domination themes were not only common for both men and women, but they were also significantly related to each other. Moreover, the presence of a single submissive fantasy was a significant predictor of overall scores for all SF in both genders.