MJ-SB03/2009 – Trying too hard: a cautionary tale
This is a true story about why you should always know your limits, and stick to them – even in the heat of passion.
Equipment:
Leg Avenue long sleeved body stocking (Nude - Plus size)
Black Lycra body
1 pair black opaque Aristoc 40den pantyhose
1 pair tan pantyhose as gag
High-heeled ankle boots
Condom
2 Tan 15den knee-high
Butt-plug
Mains powered massager
Digital timer
Lots of rope
The session:
I'd planned a series of self-bondage sessions, during a 4 day break with the house all to myself, but unfortunately the first session (MJ-SB 02/2009) had left me in a state of some frustration. I was determined that the next day's self-bondage would be a real winner!
Quickly dressing in the usual condom, knee-high and body-stocking, I was in such a state of desire for bondage that I simply slipped in the butt-plug, pulled on the opaque tights and black body before putting on my high-heeled ankle boots.
I love these boots – I confess to feeling like a 'pervert' when buying them off the internet years ago. Was I on the slippery slope to becoming a TV? Did this mean I would suddenly start to fancy men? Would I be wearing lipstick and a long wig in a week's time? No, of course not, what a stupid and prejudiced idea!
Please allow me to take a moment to explain my feeling on this subject.
OK, so occasionally I want to wear items of clothing normally associated with women, I like to use a butt-plug and I want to tie myself up and become helpless. What does that mean and what, if anything, does it say about me? I've considered some of the possible questions a reader may ask and attempted to answer them below:

Do I still fancy women and want to have sex with them? – Yes, if I like them and they are pleasing to my mind and eye (I'm very lucky in having a partner who 'ticks all my boxes' and I'm faithful to her)

Would I ever have sex with a man? – I honestly don't know… never met a man I liked enough to go to bed with, but that doesn't mean I never would! I'm curious, but see above – I'm faithful to my partner, so it's highly unlikely that I'll be off to bed with any other man or woman!

Do I want to be a woman? – Occasionally… They look so damn sexy and get to have so many ways to orgasm (and so many of them!). I might fantasise about all those extra 'bits' that a woman can stimulate and how much more fun there could be had in tying them up. I'd even consider (if I had too much money) trying things like 'Femskin' to become, for a short time, a woman – but I'm not stupid and can't ignore all the other things women have to put up with, periods, sexism (err!) and us men! So, it's a bit like a holiday – I'd love to visit, but not to live there all the time!

Do I want to dress like a woman? - Sometimes, but only in private and for my pleasure – I love some of the clothes and materials that women get to wear, but don't want to wear all of them. I've worked with a few cross-dressers over the years, all intelligent men – but not one of them could pass for a woman at less than 200m. What really threw me was when one of them turned up for a meeting in women's trousers – I just couldn't figure it out, a man, dressed like a woman, who was dressed like a man… maybe I am sexist after all… ?

Do I consider myself 'abnormal'? – No, I consider myself broadminded and adventurous. I like who I am and what I do, it's fun, sexy and challenging – what's wrong with a hobby that hurts no-one (apart, occasionally, from me!) and takes place in the privacy of my own home? If that means I differ from the accepted 'norm' then "good" say I – what a boring world it would be if we all did the exact same things and behaved in the exact same way.
There, got it out of my system – now let's get on with the session:
As I've already said, I was looking to get the frustrations of the previous day's sessions out of my mind by having a real blast of self-bondage…and wasn't going to listen to my own inner voice warning me of potential pit-falls.
I planned to use the stimulation of a mains powered percussion massager (see MJ-SB01/2009 for more details) and had found a digital timer that allowed 8 cycles to be programmed in. Experiments had led me to set up a combination of 1 & 2 minute 'on' cycles with 5 minutes between and then a final 4 minute 'on' to finish me off. . This meant the session would have to last a minimum of an hour – which fitted in with my release method. I'd programmed the timer to give me 30 minutes to get into my bondage before the first cycle started.
Note on digital timers: If you have lots of these timers you can combine them in a daisy chain to run cycle combination of 7x7x7x etc. The use of 7 and not 8 cycles is due to the need for the timers to stay 'on' and provide power to the next cycle/timer in the chain. For the digital minded amongst you, think of simple logic gates in series where you always need to ensure a 1 or 0 (on/off) state can be achieved by the next 'change'. I confess that though the logic is simple, the setting up of the timers is tiresome and needs some thought – but it does work.
My bondage started off being strict but simple – ankles where tied and tightly cinched with rope. I'd wanted to tie myself lengthways along the bed, so a rope had been run from headboard to footboard and my final rope was suspended above the bed from a sturdy light fitting bracket. I was planning to fix my ankles to the rope on the bed, tie my head and torso down to the same rope and then my wrists to the rope handing down from the ceiling.
I'd gagged myself with a pair of pantyhose and pulled a knee-high over my head to hold everything in place. Then I pulled a knee-high over each hand and arm (over the long-sleeves of the body-stocking) encasing my arms.
First mistake
: I couldn't make myself as helpless as I wanted and fix the massager in place lying flat on the bed. Aware that the clock was running I decided to try a variant on a 'ball-tie' bondage I'd seen on the internet.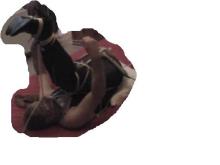 Hopefully you can see from the photo how I managed to arrange myself (sorry about poor quality – screen caps from a video plus bad lighting, blame the director... i.e. me!)☺
Second mistake:
The more I tried to make this position work, the more extreme I started to make it. I looped a rope around my ankles and drew it tight backwards over my head. The tighter it was the more 'compressed' I felt, which seemed to be good at the time. Next I bound my thighs to my body, pulling them as tight into me as possible. More rope around my knees and back around my head, pulling in the gag, and neck (yes – risky, I know!) secured me more firmly. I then tied the massager in place resting against the butt-plug and the base of my cock, and, because I'd got a spare length of rope, proceeded to tightly cinch all the ropes I could.
Totally in the 'zone' now, I took a pre-made length of coiled rope and forced my wrists through the coils, ensuring that the slip-knot from the ceiling was in place to cinch the wrist coils tight.
A steady pull on the black rope (which you might be able to see at the top of the picture) tightened up the slip-knot via an SRD (not in picture), which now prevented my escape. I was tightly self-bound, and not going anywhere until the ice tethering my SRD melted.
Third mistake
: It's one thing to try a programme on a massager when you are free or only simply bound, it's another thing altogether to 'suffer' from that programme in a strenuous bound position. I'd been almost too good in my programming – there was no way I could make myself cum (which was what I'd intended for the first 7 cycles), but each cycle was a torture. The butt-plug was vibrated in a delightfully pleasing way (I'd set the massager to 'slow' thankfully), but the base of my cock was just being tickled – not badly, but enough to drive me to distraction.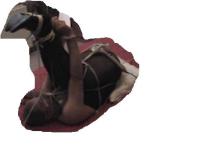 Fourth mistake
: The position was beginning to strain me; what had been so sexy and erotic to begin with was now hurting my back and shoulders. 30 minutes in and I was in some mild pain and really wishing to be free. I could have pulled the ceiling fitting down (this was my emergency release) but decided I had to let the session run.
Over 90 minutes later, and some time after the last cycle had completed on the massager I felt the SRD go free and struggled out of my bondage. My back and shoulders ached and burnt as if I'd been doing some heavy lifting for a whole day. My neck and my legs where so stiff I nearly fell when I tried to stand up – I felt sore all over.
What went well?
The massager did it's devilish worst and achieved (almost) what I'd wanted it to, only failing in the very last cycle to provide the orgasm I desired – but in some ways that added to the thrill.
The semi-suspension element of the tie was so very sexy, with both my legs and arms held up above my body.
I confess to loving (I'm even getting turned on writing this) having my head bound. Yes, I know it's risky and I should be very careful, but it does something to me when my head is held immobile and I can feel the tightness of rope/tape/leather/whatever compressing my face.
What could be improved?
Oh dear! The aches and pains! My back, neck and legs returned to normal within a few hours, but my shoulders are still not right even after nearly 3 weeks – not good at all!
I need to find a better way of achieving the same or similar feelings without all the unwanted side-affects.
And I need to get better photos to share with you folks - Does anyone know of a software programme for a Panasonic Lumix DMC-TZ1 that can be set up to take shots every so many seconds/minutes via a USB and laptop?
It was still a great session, but it nearly prevented me from having more adventures in my week of fun.
Play safe
and why not share your experiences!
MJ