For all the right reasons I unexpectedly found myself 'home alone' for a day or two and after so long without any self-bondage fun I just had to play….
Equipment:
70den open crotch nylon bodysuit with sheath
20den open crotch nylon bodysuit
20den sheer pantyhose
6 knee-highs
Large butt plug
Rope (not used)
Condom
Small wooden stool
Home-made 'penis' gag
Duct tape
Large plastic bag with attached breather tube
Elastic band
Vacuum cleaner
Digital timer
Ear Plugs
The session:
You have to understand that I've not had any chance for SB fun for over 6 months, and to say I was desperate and understatement: I was, quite literally, gagging for it!
The plan was simple – for my session I would be 'wearing' a plug in my ass, a gag in my mouth (secured with duct tape and two knee-highs for added 'mmmppphhh') , more plugs in my ears and a combination of bodysuits, pantyhose and knee-highs to encase my body in (not to forget the condom over my cock, just in case I got too excited). My bondage would be achieved by the tried and trusted vacuum bag method, with a twist of using a small wooden stool to position myself on.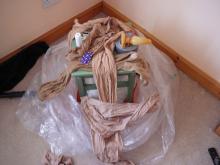 1. All the kit laid out and ready to go – I didn't use the rope in this session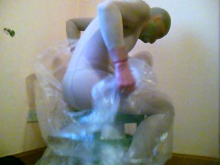 2. Getting set inside the bag, I've used a towel to protect the bag from damage by the stool legs and also filled the space under the stool with pillows to stop the bag 'bursting' inwards (which happened in the past).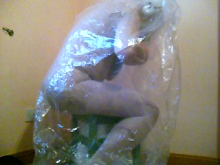 3. Sealing the bag – I use a strong elastic band to do this, low tech but effective. I also completed my encasement by adding the knee-highs over hands, two on each, for almost 100% encasement in nylon.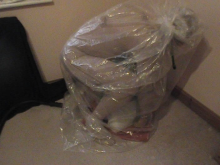 4. Now all I can do is wait - I've allowed myself plenty of time to get everything ready and am now sealed in the bag awaiting my fate… it always seems such a long time, but anything less means I will be racing against the timer to get ready. Anticipation is all part of the fun too…
The first 1 minute cycle begins – the vacuum has started and the air is being sucked out of my plastic world.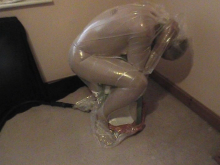 5. Tight, but not sealed – Oh, it's so wonderful to feel the plastic tighten around my body, but there is a problem with the seal and I'm only partially vacuum packed.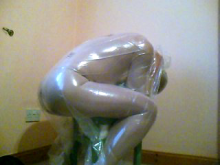 6. Found the leak and holding it closed – now the bag is very tight and my arms are trapped by my head, not what I planned but very nice indeed.
1minute session finished, 4 minutes to reset – I've programmed in a 4 minute 'break' during which I can abort the session or, as I am doing now, re-set everything for the long 5 minutes that will follow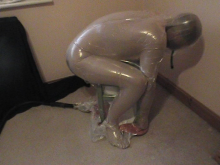 7. 5 minutes have just started - The seal is now leak-proof and the plastic vacuum packing is soooo tight I could, almost, cum with the pleasure of the feeling.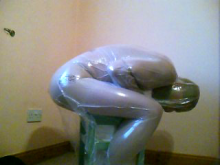 8. Does my ass look big in this? – Oh my! The plastic is so tight that the butt-plug is being forced deeper inside me, just a little but enough to feel the change. Shamefully (or not) this is when I fantasise the most about being taken up the ass… I really wanted is to happen so badly…

☺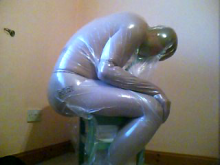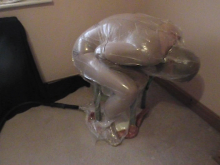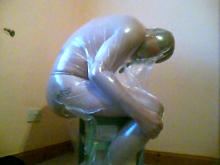 9. Again, again! – ahh the ecstasy, this is incredible; I'm trying different positions and each one is just amazing. I am so tightly clasped by the plastic that I have no option but to endure (enjoy!) the 1 minute, then 5 minutes of each session, then escape to reset the timer and start over again. I wish I could go longer, but…
What went well?
When the bag is properly airtight the feeling inside my plastic and nylon encased bondage is as intensely erotic as any solo play I've ever experienced.
It is difficult to find the words to explain how erotic I find the sensation of being clamped, (almost crushed) in a skin tight cocoon that is rendering me so totally helpless. (The nearest feeling I can think of is when I used to regularly swim and could safely breathe out and sink to the bottom of the deepest water in a swimming pool. The weight of 2.5m of water pressing my to the floor of the pool was similar, but not as intense).
The plastic around my head was especially erotic during these sessions: with a perfect seal to the bag my head was so tightly compressed that my eye-lids where forced shut and saliva was being sucked from the sides of my mouth, despite multiple layers of duct tape sealing the penis gag in – incredibly sexy.
The penis gag – what a DIY success this has been! When my session ended the saliva in my mouth was literally pouring out, which for reasons I can't explain was unbelievably erotic at the time.
The incredible fantasies of the position I was in made it more enjoyable, I've already confessed to one, but there are others I remember thinking about… dare I tell you?☺
Using two cameras – did you notice the shots are from different angles? I think I need to work on my 'directors cut' but not bad for a first attempt.
What could be improved?
If only I could perfect the seal so that every session was this good – no matter what I try the only consistently good solution seems to be to use an elastic band, but it is awkward and prone to failure.
I want to find a bigger or at least longer bag (this one is a king size mattress protector) possibly in a slightly heavier gauge plastic – any ideas?
As always I want a 100% fool proof and safe way of extending the sessions, without having to leave the vacuum cleaner running (overheating risk, plus the noise).
Play safe
MJ