..and another one bites the dust!
Tumblr - source of so many EOTD and inspiration for fantasies.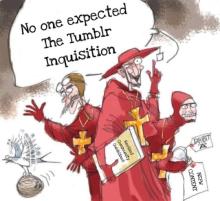 Lobotomized, castrated and painted beige, all in the name of political correctness.
Yes, it had it's faults and there where a tiny number of abhorrent and unacceptable images, but the solution was an over-reaction of the very worst kind. It was also lazy - it was too hard/expensive to monitor properly so they simply blocked everything
Cherish this forum and all the work Ra puts in to maintain it.
MJ
Ps. though I am lamenting the loss of Tumblr as it was, I can still see new posts appearing there that challenge it's new rules - rebels are still fighting the forces of oppression.