I did a session today, that was inspired by this (though NOT losing the release lol)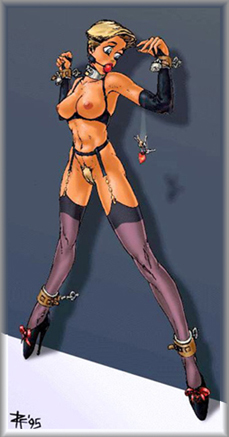 Of course living alone (besides a cat that is) I don't want to get stuck by dropping the release. And fumbling with a key when your arms are spread is shall we say... difficult.
The setup was easy - I have a door frame in my hallway, I put two eye hooks at the height my ankles would be, one on each side, then two where my waist would be, again one each side. For the hands, the door frame is too close together, so about 5 feet away on each side I put eye hooks for the hand bondage. For the hands, I used LikeRa's ice in a stocking method to hold the ring device which I'd lock my leather cuffs to (small bowline to put the lock in). Above my head was another eye hook, to attach my hood to (it has a D ring on top).
I put my cuffs, blindfold, keys, gag, length of rope, pvc corset (hard to bend in one) and my means of genital torment on a chair next to the door. The means of torment being an old vibrating butt plug that used to inflate but does not anymore but still vibrates.
Then came attaching the two socks of ice with the ring devices, taping the ends to the wall - the one with the bowline each side lower than the pull so I would know which once the blindfold was on.
Next was dress for the occasion. Catsuit, 6" heeled ankle boots, latex gloves, and leather hood. Under the hood I had put ear plugs in. Added torment - the other inflatable vibrating butt plug that does work lol. Under my bra I put on my nipple clamps.
I quickly got in position, put one set of cuffs on my ankles, locked them to the door frame. The corset was next, but not too tight, just tight enough so I knew it was on lol (too tight and it can restrict breathing a bit tooooo much... as I have found out in bondage with others). Once the was in place, the rope was tied off through a larks head around my waist, cinched with a hitch, then one end passed through the hooks on the sides, brought around, back through the other, then around the waist tightly a few times till I was secured. I could *just* reach the stuff on the chair lol.
Now, for those who do not know me, I'm transsexual, a pre-op, so still have below if you get my meaning. That is where the other plug went against and secured with a piece of tape (loose) so it wouldn't budge much. I left it off for the time being.
The gag went on next, then the leather cuffs with the locks through but not locked. Blindfold on, hood clipped with a snap ring to the hook above, vibe on, butt plug pumped 6 times and turned on, then I felt for the left hand rope, found it, locked it on, then repeated for the right one. I was locked in but still able to release myself easily.
When I felt that I was ready, that things were okay, I felt for each pull rope, put the left one in right hand and vice versa, then pulled - hard. ZIIIIIIP!!! Arms were now spread, and tight! I kept each pull in my hands, as I know that as the ice melts there is more and more slack, and I didn't want any!
I stood there, gagged, bound, blindfolded, sounds muted, one plug in me inflated and vibrating, the other vibrating against my crotch. Nipple clamps under my bra and tormenting. Head held in position. Unable to move much at all!
I did, however, start to feel it in the legs and feet after a while, maybe half an hour (who can tell? could have been 5 minutes... could have been an hour... if you can't see anything... well... 😋 ). The heels were making the feet start to hurt mildly, and the legs getting a little "stretchy". All I could do was angle my heels for a few minutes at most so that the weight would be borne on my cuffs and the hood. That presented its own problems and would have to get back on the heels.
I had started at noon, and the amount of ice I put in meant at the bare minimum two hours like this. I decided to enjoy it! I'd just take it as "punishment"! 😋
Well, without going through what turned out to be FOUR hours worth... let me just say that I could NOT hardly move at all, and when the slack came in I'd tighten them up, I did climax (almost twice lol!), and when the first hand got free I was both relieved and yet a little disappointed lol (I love long bondage!). I let the hand hang a bit, waiting to see if the other would fall free, and when it didn't I undid the blindfold, gag, and unclipped the hood. Looking over there was at least another 15 minutes worth! and I couldn't reach the key chain on the chair 😋 Oh well! Once down, I started undoing myself (I deflated and turned off the butt plug not long after the first hand was free and turned off the other).
Pros: it was pretty intense! It's a much different feeling than being spread eagled on a bed or floor. Also, it WORKED! And well! 😋 The arms were spread and I couldn't reach the ring devices to fiddle them loose. The ankles stayed in place and I couldn't wiggle side to side (just a touch forward). The torments worked too! 😋
Cons: next time I do it I might not wear the 6 inchers lol. As any woman will tell you... high heels are a bitch 😋 Maybe my 3 inch ones if it's the same amount of ice/time. And maybe not the nipple clamps... the hormones make them pretty sensitive, and with nipple rings... moreso 😋
Would I do it again? H.E. Double Hockey Sticks YEAH! 😋 😁 Would I recommend? Only to those who can stand spread eagled for longer than half an hour 😋