Hello everyone,
After the mistakes I made on my previous session I decided to repeat it. This time I made various improvements, most of them inspired by your feedback (thanks!). Then, I dressed a little bit more... but just a little bit 😇 ...this time I wore a bodystocking. Again, I used my beloved penis-shaped anal plug 😴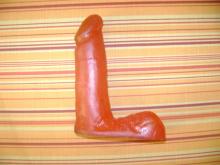 Regarding the restraints for my feet, this time I bound them on opposite sides of the couch and used wire to fix the ankle belt strap to the corresponding side of the armrest of the couch...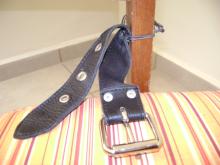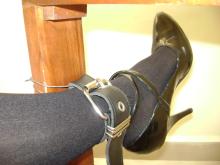 Then, I proceeded to tie myself, starting with the gag, then the feet, clinched my penis, and finally handcuffed my hands to my back: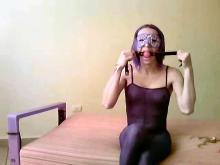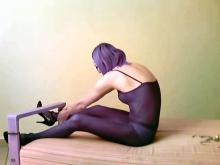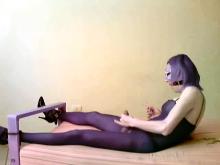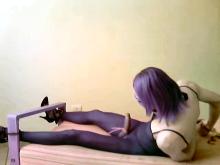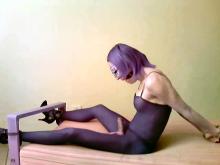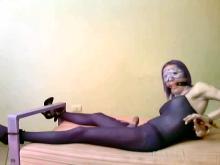 This time I relied totally in the ice-melting release method, that is I didn't leave any backup release method

The new method to restrain my feet proved to be a complete success! I couldn't get my feet untied like in the previous session, and having them separated made my situation a little bit more uncomfortable (but at the same time more enjoyable). However, I made the same mistake with the ball gag and, eventually, I was able to get rid of it...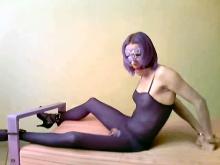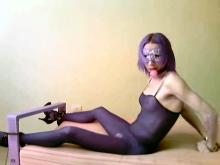 Later, I noticed that I adjusted the gag's belt strap to the previous-to-last hole... Next time I should go all the way to the end of the belt strap! Nevertheless, I remained helplessly waiting for the keys to fall... which happened about one hour and twenty minutes after starting the session ❗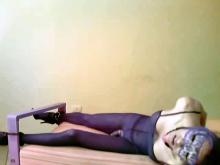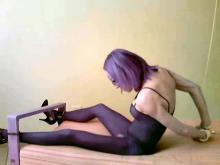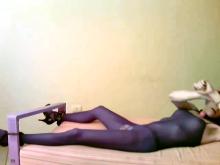 By that time, I was completely exhausted! Yet it was a very enjoyable and successful session.