I want to be suspended in bondage. Since I'm now well over 80 kg it's next to impossible to tie a harness that is comfortable for any period of time. Therefore I bought one of these: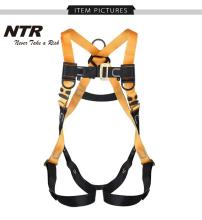 I tried it out this afternoon and I was just hanging around for a bit and it was pretty comfy.
The next days I will be trying out some stuff, like lowering myself in a more controlled way rather than just dropping to the floor when the release triggers because that seems like a recipe for injuries. Also release methods, backups, ...
I'll try to update this thread with my progress if there is any interest in my thinking/preparation/training/... for a more complex setup that will go to video later.