(07 Mar 2013, 01:06 )

Like Ra Wrote:

(28 Feb 2013, 15:21 )

steve6322 Wrote: a gag harness of my own making (and of which I'm quite proud... it has inter-changeable gags: a ball, a big deep-throat gag

If you do not mind, could please post a short tutorial here? I bet many will greatly appreciate that!
Sorry it took such a long time... but here's a few photos that should give folks the idea.
1. You need a few tools, but nothing really special... hammer, chisel or sharp knife, tapered drift or punch, 2mm diameter hole punch, rivet punch (and accompanying small dished anvil), large anvil or similar.
2. Materials required are 20mm leather belt strips, two part 4-5mm metal rivets, press stud fastenings, 40-60mm diameter hard rubber ball, "Kong" classic pet toy (
http://www.kongcompany.com/
), short piece of broom handle, bicycle handle bar grip, 2xscrew eyelets, D-ring, 3xmetal rings, 3x20mm metal buckles.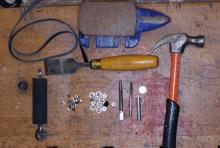 3. Using the metal rivets to join the leather is straight forward enough and requires the hole punch to create the holes, and the rivet punch and small anvil (can be bought cheaply with the rivets). Make the holes in the leather strap with the hole punch and hammer, insert top and bottom half of the rivets in the holes, place carefully together over the small dished anvil and using the rivet punch fasten together with a sharp tap of the hammer (experiment with some scrap pieces first to get good at this).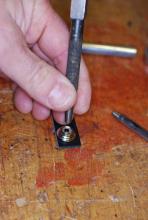 4. I simply copied the design of the harness gag off the internet using the many pictures available (try not to get too distracted in your research!) and then used my own head to create the dimensions. I started with the metal ring at the forehead and joined this to two further metal rings with short lengths of leather strap and rivets (the length will depend on your face/head/nose/mouth so best use your own features as a template) so that the two additional rings sit at either side of your mouth.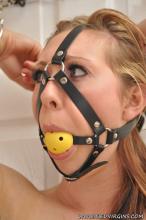 5. I then added the straps and buckle under my chin (allow sufficient length on the none buckle strap with plenty of holes to give required adjustment for tightening).
6. I then added the strap going over the head and added a D-ring at the top (possible restraint point!) and a buckle. To this I added a strap with a simple loop at the end and plenty of holes for adjustment (the loop is to thread the side straps through at the back of the head).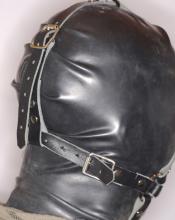 7. I then added the side straps... one long with no buckle and plenty of those holes for adjustment/tightening, and one short with the buckle on. This allows fastening/tightening at the side of the head.
8. Finally I created 3 interchangeable gags depending on mood and scenario: a simple bit gag made from a short piece of broom handle covered in a bicycle handle bar grip with a screw eyelet inserted either end (the pet store chew toy version didn't work so well), a simple ball gag (50mm diameter), and (my favourite) the "Kong" pet toy. The latter is about 60mm max diameter and about 100mm long (or is that deep?) and fills my mouth up really nicely, with the added advantage of a being hollow to aid easy breathing. All three can be easily added/changed using simple press studs. I'll probably add a ring gag at some point when I find a suitable diameter metal ring.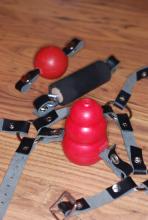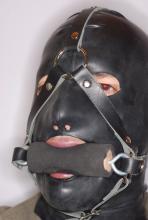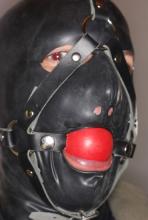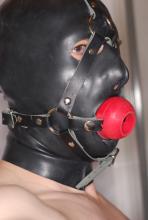 9. Lastly, everything can be tightened up nicely when the harness is on to keep everything in place (mmmph, mmmmmph! hummmmph!)
All for less than 20Euros, plus a bit of work and lots of job satisfaction!
Have fun!
Steve