If you would like to use search functions, view attachments or play games, please consider registering.
Wolford 'Splash'.
I'm not sure if these are also Wolford, but Hayley Williams (lead singer of Paramore) makes them look fabulous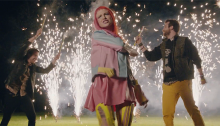 ..not sure I'd ever buy anything like this to wear for myself, but the look is very different.
Just tracked down some more information on these
Melting Tights
- advanced warning, site has irritating adverts

MJ