At long last some 'Home Alone' time! Unfortunately it coincided with an extremely stressful week at work and a pre-commitment to run in a race – all of which meant that I had difficulty motivating myself to get going and was exhausted too. But I did my best!
Read on….
Equipment
:
70den closed crotch, long sleeved nylon bodysuit with sheath
20den glossy Tan control tights
Lycra leotard with sheath
Long nylon gloves
Rope
Condom
Silicon cock rings
Butt-plug
High-heeled ankle boots
Chains
Wrist, ankle and thigh cuffs with d-rings
Spreader bar
D-shackles
Lace-up hood with penis gag
Rice in bags (ahem….)
The session
:
With everything that was going on in my life I needed something comparatively simple to get me going. I didn't fancy a 'proper' self-bondage session but I did want to try out some ideas and my latest purchases.
My set-up was all about achieving immobility, with legs spread but arms in a comfortable position downwards towards my legs rather than the usual 'spread-eagle' position. I would use the built-in collar of my new hood to keep my upper body fixed in place and the spreader bar to hold my legs spread and tightly fixed to the bed.  
- my bondage set-up in place on the bed
Dressing was also comparatively simple; in went my favourite butt-plug (very easily considering how long since I last stuffed my ass!), which also went some way to lifting my spirits! A condom went over my cock, accompanied by three silicon cock-rings, then the body suit, followed by tights (with a hole for my cock) the leotard and finally my boots. By now I was suitably aroused (those cock rings helped) and everything was starting to get interesting. I fastened cuffs around my ankles and upper thighs, slid on my gloves and added cuffs to my wrists before finally lacing on my hood.
Pulling the hood on sent a thrill through my body and pulling the laces nice and tight felt so good, as did buckling the neck collar closed – the sense of helplessness was starting to build nicely. I had removed the blindfold for this session, but kept the gag, which was next to be applied. I confess to some nervousness when I slid the silicon cock into my mouth; the first attempt caused me to gag slightly and I had to start over again. The second attempt went better but the cock felt so very big and I was feeling a strange conflict of emotions – fear that I would choke on it but arousal at the thought of what I was doing. Nerves won out in the end and I did not fully tighten the strap holding my gag in place. I had also added a simple karada around my body, using some improvised 'breasts' (made of rice inside bags and tights to give it some more 'form' and weight) to help hold the ropes in place.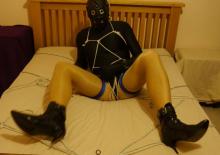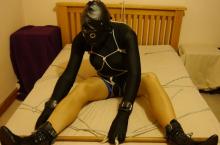 Getting onto the bed I started by using the D-shackles to lock my ankles to the spreader bar, this was a bit fiddly with my new gloves but eventually my legs where fixed in place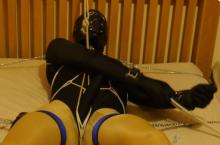 Now I used the chains (dog leads, brought very cheaply from a £1 shop years ago and still going strong) to secure my thighs as tightly as I could and also through the d-rings of my hood collar to hold my head in place. The thigh chains helped to enhance my feelings of vulnerability –having my cock and ass exposed and unable to close my legs together. I had also added a rope from the small of my back, around my crotch and up to the head of the bed – this was tied off tight and meant every movement stimulated the plug in my ass.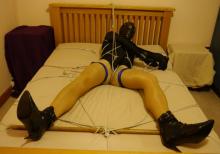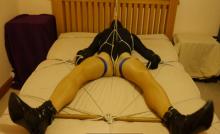 My final bondage was to use ropes through my wrist cuff D-rings to pull my hands down the bed and away to the side. Because I wasn't using a rope ratchet or SRD (I didn't want to be properly helpless for this session) this was much more complicated to set up than I'd expected. I eventually managed to achieve something close to what I desired by criss-crossing ropes and pulling on a rope in my right hand to tighten my left wrist and vice-versa for my right wrist. I effected a final 'tie-off' due to the friction of the ropes across themselves – not 100% effective, but very enjoyable all the same
Now I was (almost) helpless and thrilling in my bondage. Struggling proved my legs and head where very securely held in place and thrusting my body down the bed produced the most enjoyable feeling as the rope caressed my cock at the same time it drove the plug deeper inside me.
But best of all was my gag: the silicon cock was making me drool and I had to keep swallowing my saliva – you can guess what I was starting to imagine was happening…  
What went well?
The bondage hood – for my first real trial this worked brilliantly. I admit to being more than a little nervous about the penis gag to start with, but after 5minutes of being bound on my back with that cock in my drool filled mouth I was hooked! All feeling of discomfort had passed and I was losing myself in all sorts of fantasies.
I also loved the options offered by the D-rings on the hood's collar – in this session I used them to hold my head in position and loved the additional element it brought to my session.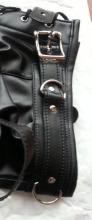 The 'arms down with legs spread' position – as a change from the usual spread-eagle bondage scenario I found this to be very comfortable whilst retaining the helplessness I desired. Definitely one I will try again and next time hopefully with a proper delayed release through rope ratchet and ice-cubes.
My first experiment with using rice to make 'false boobs' was interesting and made for a bit of extra fun – especially when tying the karada.  
What could be improved?
As my first session in a very long time I can't really find serious fault in anything I did – yes I might have added a delayed release, but at the time I just didn't want to do that.
My laptop is still playing up so I couldn't run a video – this is annoying and I can't seem to fix the performance issue that is causing the problem, nor am I about to spend lots of money to buy a replacement. I'm going to have another go this weekend as I'm almost certain it's a rogue process running in the background (it seems to affect anything related to images, especially video, causing the CPU and memory to max out).
.
Play safe
MJ