Imagery and self-bondage sessions
:
a personal selection of images and why I sometimes use them as part of my self-bondage sessions.
Over the past year or more there have been literally hundreds of forum postings on the topic of images, which the contributors find visually pleasing or stimulating in some way. Having read through all of them, and commented on some, it soon became clear that what was erotic for one person simply didn't do anything for others. I myself was no different and found some pictures arousing whilst others where a complete turn-off.
After thinking it through a bit more, and also as a result of a subtle prompt from Ra, I set out to discover what images worked for me and why.
I've searched through the many photos and artworks in my collection and found a few stand-out ones that really get my juices flowing every time I look at them. Perhaps surprisingly I also came across a large number that made me ask myself why on earth I'd ever kept them in the first place! (There's more on that topic later)
Ultimately I think I've broken down my pictures into the following 3 categories:
Erotic
: I might not have to been planning anything or even feeling particularly aroused, but these images can always create a feeling of sexual arousal within a very short space of time
Inspiring
: These are images are the ones I use when I have the urge to try for a new SB scenario. They often have an element of bondage that I can reproduce or adapt for my own session. Some are already true SB scenes or could be (in my mind's eye) – though these later images are, sadly, a very small number.
Wishful
: simply put a scene where I wish I was the person in the image, I can't place myself in the scene (physically impossible, needs a friend, etc) but dearly wish I could be on the receiving end of whatever is portrayed.
It sounds obvious, but some images manage to fit more than one of these categories and a very few make all 3.
So let me take you through some of my all time favourites, which after much consideration, I've trimmed down to 6 for each of my categories:
Erotic:
1. Girl bound and gagged on bed: I think it's a combination of the composition of the shot, the attractiveness of the model herself, the gag and the look in her eyes that gets me every time.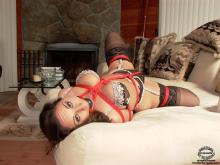 2. Girl with hogtied spreader bar: another very attractive model and great composition. In this one I imagine her struggles and how they pull the bar across her crotch… very erotic!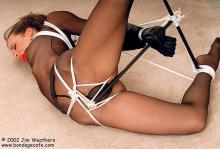 3. Girl spread-eagle on bed: Classic position and very well tied – an open invitation you might say (but only with her consent of course!), very much appeals to my dominant side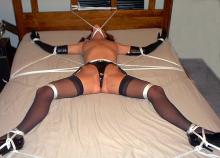 4. Photo-manipulated encasement: My first Jiga special (is his work still being produced?), Jiga has taken an existing photo and simply (or rather, very brilliantly!!) manipulated it to make the girl fully encased in beautiful nylon. Yummy!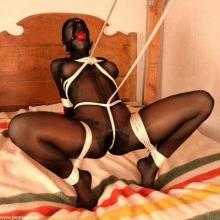 5. Encased and gagged head: No matter how often I look at this picture my pulse starts to race. It just 'does it' for me!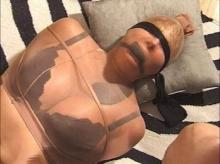 6. Old Favourite: I thought I'd lost this one year's ago, so was very pleased to find it again during my research. The photography is nothing special and the second person in the shot is a distraction. It is the seated and bound girl who still fires my passion. I couldn't quiet tell you why I like this so much; is it the nylon covered head? The collar? The stringent arm binding? The dildo on the chair? I honestly don't know. I do know it isn't the legs (pathetic bondage!) or the clothing (boring black and predictable stockings) or the overall scene (dreary dungeons never get me aroused). But I DO like it!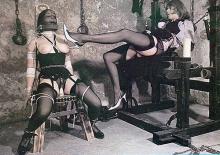 Inspiring
:
1. Girl bound on sofa: I can see how to turn this one into a real SB session, set up a few rope ratchets or SRDs and you're away! I'd add a timed vibrator, butt plug (of course!) and some nylon/lycra encasement for good measure. Love to try it sometime soon!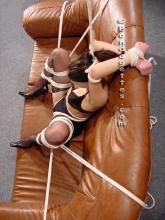 2. Girl encased on chair: a classic inspiration for my SB sessions. Lovely amateur photo and works better each time I look at it. Encasement is wonderful with the very tight pantyhose crotch rope and gag making me tingle in the right way. She might even have bound herself like this and used a camera to capture her predicament.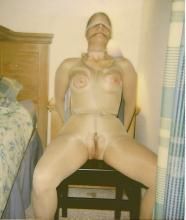 3. Zentai bound on stool: if ever an image presented itself as a SB opportunity it is this one. I have the rope, the black zentai suit, the heels and the stool. I want to add a little something to this (obviously a butt-plug) to make it even more exciting – maybe a predicament of some sort? (OH! I've had the idea! An enema – by placing the keys/scissors to free my wrists are a long hop away, if/when I stand upright the enema is released and I have to race it to my freedom)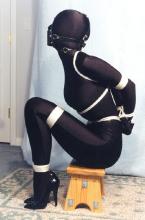 4. Encased and chained: Another Jiga production. In my mind this must be another classic SB scenario. The chain to the ceiling is obviously the release and the girl is waiting for an ice-lock to melt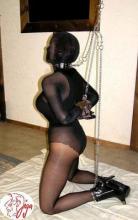 5. Office self-bondage: I can dream that one sunny day, when I have no need to attend meetings or answer calls (not a chance at the moment!) and just like this girl I will work from home, dress myself in my favourite fetish gear, lock that gag in place, tie myself to the office chair and, for once, enjoy typing up a document or two (I wonder if I can rig a programme that only triggers my release when all my work is complete?)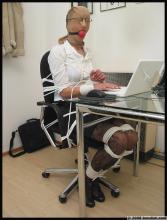 6. Clear latex: I like this one a lot. Even if I don't have the money for a latex suit (yet) I could still be encased in pantyhose. I would add a gag and bind myself to the bars, until only my right hand was free. Out of the picture I imagine the last lock/handcuff will be my escape, but only when the ice melts. Have you noticed the pipe? Can you guess what it's for? I had better have got the timing right or else I'm going to be in for an uncomfortable time!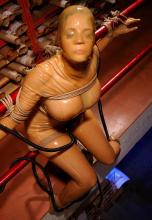 Wishful
:
1. Rope and more rope over encasement: At long last my GF has finally decided to fulfil a fantasy of mine and encased me in pantyhose before using our entire supply of rope to bind me. There is no possible escape until she decides to free me – so I shall stay bound, with my rope gagged mouth and rope blinded eyes, until…?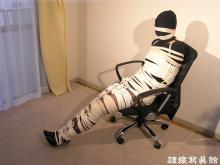 2. Encased, taped and hogtied: I know I can't ever achieve this, my shoulders do not have the flexibility, but I can dream. Oh to be bound like this; encased in nylon, legs, elbows and wrists tapped tightly together, gagged and then hogtied – Dreamy stuff!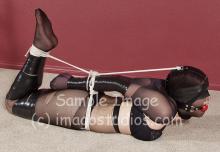 3. Latex clad, suspended spread legs and violated: My GF has had enough of my binding her and has turned the tables. I don't know where she found the money for the latex suit or the single-arm, but I don't care. She's left me like this with the dildo up my ass as a lesson for all the devious things I've done to her. She says I must make myself cum before she will free me. My only hope is to use the dildo but I'm already exhausted…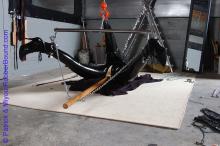 4. Encased in pantyhose and then mummified in wrap: Once again I've pushed my GF too far. She wanted to watch some soppy chick flick but I wanted to watch football, maybe I shouldn't have challenged her to an escapology forfeit! I told her that if she could tie me up so that I couldn't escape before her film started then she could watch it, if not she'd be the one tied while I watched sport. Where did she get this idea from? And adding a gag so that I '…wouldn't spoil her movie…' was a bit harsh. I've lost track of time already. She did check I was OK during a commercial break. She said she would even allow me to lie down, but that would cost an additional layer of duct tape all over – she's due back in the next break to check on me again, I fear I will have to ask to lie down because I'm getting dizzy… it could be a long evening…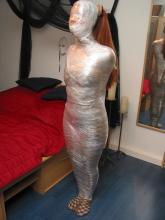 5. Bed tie: Oh to be tied in such a stringent, but comfortable looking position. Maybe my GF has once again decided she needs some 'quite time' and I need to be kept from disturbing her. Every rope is doing a job to stop me moving anywhere. The tightness of the belly and chest ropes ensure that even my breathing is under her control, the addition of the neck rope (tight enough to squeeze, but not hinder) has left me immobilized in a frighteningly erotic way. My GF promises to come and check on me ever 15 minutes, she will even bring me a drink if I ask but asking means a gag will be applied afterwards. I am feeling very thirsty. She's already filled my ears with moulded plugs and so I can't hear her come into the room with the gag and a blindfold in her hands….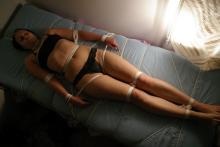 6. If I wasn't a man: …could I please be her? What's the point in wishes if they aren't at least a little bit fantastic? This is from a set I've had for some time and they always draw me to wonder what it feels like - I would love to her even if just for an hour or two; tied like this, at my own request and eagerly awaiting whatever my lover wished to do next. They have left me tied like this with devilish vibrations working away deep within me. What will they do next? Why is that gag lying there? Am I going to be ravished like this or tormented some more?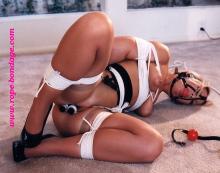 There! I've given you a small insight into what makes my life that little bit more exciting and fuels my passion for Self-bondage. Though often far-fetched and admittedly probably unachievable, isn't that what fantasy is all about?
Whatever, it is always safe, sane and consensual.
During the delve into my bondage and fetish archives I found a surprisingly large number of images that left me wondering 'why did I save that?' maybe my tastes have changed over the years or possibly I used to save everything I saw – whatever the reason these images no longer excite and have been relegated to the recycle bin.
I hope you've enjoyed this and maybe found something that works for you too – if not why not post your own top 10 (or 20)?
Why not do it anyway? I'd love to discover something new that I could bring to the party!
MJ